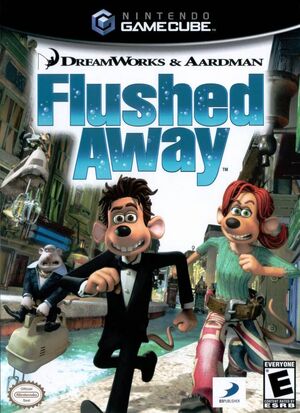 Flushed Away: The Video Game is a 2006 British/American computer-animated action/adventure video game, based on the flim of the same name.
Gameplay
Flushed Away is based around platform gameplay, with the player controlling the two main characters from the film and guiding them through hazard-filled environments. Environments and enemies are based on those in the film, although several areas and creatures not seen in the film are also included. Interspersed throughout the game are mini-game sequences involving shooting enemies with a golf-ball firing turret, and taking control of a boat in a chase sequence. Some multiplayer minigames are also included, based around puzzle and shoot-'em-up mechanics.
Synopsis
Coming soon!
Voice cast
Leigh Allyn Baker as herself
Steve Blum as Le Frog
Susan Duerden as Rita Malone
Bill Farmer as Whitey
Fred Tatasciore as The Toad
Zachary Throne as Roddy St James
Production
Coming soon!
Reception
Coming soon!
References
External links
Coming soon!